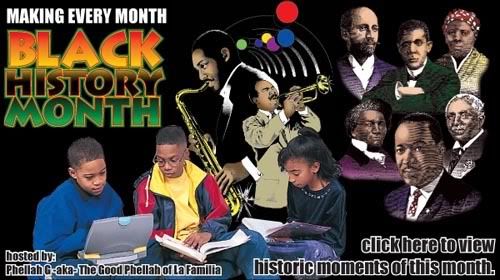 February
*-not accurate date
1.

1960:

4 North Carolina A&T students stage a sit-in in a dime store which began the 1st of the historic 1960s sit-ins in Greensboro, N.C.
1865:

John S. Rock, 1st Black to practice before U.S. Supreme Court.
1902:

Langston Hughes, poet & author, is born. (1902-1967)
2003:

Michael P. Anderson, Astronaut, dies in Columbia Shuttle explosion with 7 other astronauts.
2.

1915:

NAACP picketed the opening of D.W. Griffin's "Birth of a Nation." for its racist content.*
1902:

Birth of author Langston Hughes
3.

1870:

15th Amendment ratified (Black's right to vote)
1965:
Geraldine McCullough wins Widener Gold Medal for Sculptor
1874:

Blanche K. Bruce elected to U.S. Senate.
4.

1845:

Fairbanks was sentenced to 15 years for successfully assisting 3 runaway slaves.*
1864:

24th Amendment abolished the Poll tax
1999:

Unarmed street vendor, Diallo, shot 41 times by 4 NY police officers
1967:

Peabody Fund set up by George Peabody giving $1 million to aid in Black education
2007:

For the first time, the opposing teams of The Superbowl Championships of the National Football League are both lead by two Black coaches, Lovie Smith (Chicago Bears) and Tony Dungy (Indiapolis Colts)
5.

2003:

Russell Simmons calls for boycott of Pepsi Products for pulling rapper's ad campaign because of his explicit lyrics, but uses dysfunctional family, The Osbournes, instead.
1934:

Birth of Henry "Hank" Aaron, Home Run King of Major League Baseball.
6.

1961:

Jail-In Movement established in Rock Hill, SC.
1820:

First organized emigration of Black Americans back to Africa from New York to Sierra Leone (hmmm. where Blood Diamond was based.)
1867:

Peabody Fund established to promote Black education in the South.
7.

1867:

Fredrick Douglas w/ Black delegation saw Pres. A. Johnson at the White House.
1945:

Irwin C. Mollison is appointed by President Harry Truman as the judge of the U.S. Customs Court.
????:

Freedman's Aid Society (originally founded as the Fugitives' Aid Society) formed promoting the education among Blacks.
8.

1925:

Marcus Garvey enprisoned
1951:

Pvt. Edward O. Clearborn receives Distinguished Service Cross.
2001:

Robert Wilkerson, "Angola Three" released after 29 years in solitary confinement for a crime he didn't commit.
9.

1965:

Martin Luther King Jr. meets Pres. L. Johnson at the White House.
1906:

Death of Paul Lawrence Dunbar, 1st poet to use Black dialect in his work.
1971:

Leroy Satchel Paige is elected to the Baseball Hall of Fame.
10.

1817:

Birth of Frederick Douglass, Abolitionist/Publisher
1966:

Andrew Brimmer becomes 1st Black to serve on the Federal Reserve Board
11.

2003:

After protest threats, Pepsi backs down & offers to partner up with Russell Simmon's & Ludacris' fundraisers which support creative arts in inner city communities.
1990:

Nelson Mandela, leader of the democracy movement in S. Africa, is released from prison after 27 years.
1977:

Clifford Alexander, Jr. becomes first Black Secretary of State.
1933:

Birth of Lois Gardella (Aunt Jemina)
12.

1809:

Abraham Lincoln, the U.S. Pres. who abolished slavery, is born
1973:

Fugitive Slave Law passed by Congress.
1909:

Founding meeting NAACP, after the riot in Springfield, Illinois.
1926:

Negro History Week was initiated by Dr. Carter G. Woodson.
13.

1957:

SCLC founded. Southern Christian Leadership Conference
1996:

Fugees broke cultural barriers between Black American & Caribbean Blacks with their second album, "The Score."
1923:

Organization of the first Black pro basketball team,

"The Renaissance"
14.

1760:

Richard Allen, Founder of African Methodist Episcopal Church.
1867:

Morehouse College in Atlanta is founded.
15.

1957:

SCLC founded. Southern Christian Leadership Conference
16.

1874:

Frederick Douglas appointed President of Freedman's Bank & Trust Co.
17.

1950:

Thomas L. Griffin accepted with L.A. Bar Association.
2001:

Death of Khalid Muhammad, former Nation Of Islam minister & Leader of the New Black Panther Party.
18.

1688:

Slavery were first protested formally by the Quakers.
19.

1790:

George Bridgetower, Violin virtuoso, makes London debut.
1919:

William E.B. DuBois organizes first Pan-African Congress in Paris.
20.

1895:

Death of Frederick Douglass
21.

1965:

Malcolm X, El Hajj Malik El-Shabazz, assassinated in Audubon Ballroom, NYC. by 3 alleged Black Muslims.
22.

1988:

Black rap artists united to boycott the Grammy Award Show after refusing to televise the presentation of the first "Best Rap Category" given to Jazzy Jeff & The Fresh Prince.
1967:

A.C. Powell, Jr. stripped of power.
23.

1868:

Birth of Willam E.B. DuBois, Founder of NAACP.
24.

1811:

Birth of Daniel A. Payne, Leader in Education of the AME Church.
25.

1964:

Muhammad Ali defeats Sonny Liston for the World Heavyweight boxing champion.
1870:

Mississippi's, Hiram Revels, elected & becomes the first Black in the US Senate.
26.

1776:

Phyllis Wheatley's letter answered by George Washington.
1877:

Political agreement reached that ended Reconstruction.
27.

1844:

The Dominician Republic established
1988:

Debi Thomas, Figure Skater, becomes 1st Black to win a medal at the Winter Olympics.
1998:

The first real-live Hip Hop tour, The Hard Knock Life Tour, begins.
28.

1984:

Michael Jackson wins 8 Grammy Awards revolutionizing pop music.
1784:

Poetess, Phillis Wheatley dies